While 21% of workplace violence incidents occur at the hands off existing employees, 79% involve people who should not have been able to access the interior of the building in the first place. Physical security solutions must be in place to keep the disgruntled ex-employee, the jealous husband, or the angry protestor from walking right through a door into the work area.
Many organizations deploy an access control device on a swinging door in an attempt to keep unauthorized individuals from gaining access to their building. However, this method is actually ineffective because of the possibility for tailgating. Tailgating is one of the most common and innocent security breaches. An employee presents credentials at a swinging door, opens it, and politely allows another to enter. This social engineering scenario exposes a building to undocumented and unauthorized entry by individuals who could inflict harm upon your property and/or people. This is especially an issue with ex-employees or spouses and significant others, because employees are more likely to let them enter with them than a stranger because they know or recognize the person.
To address the risk of tailgating, an organization should couple an access control or biometric device with a physical security entrance such as turnstiles or security revolving doors for employee-only entrances. These physical barriers address tailgating by their design and working principle - as a result, they take the pressure off employees and support security staffing – even reducing the amount of supervision needed, creating a payback. Finally, their very presence as a barrier can deter casual attempts at infiltration and give pause to more formal plans of attack.
Physical Security Entrance Capabilities
If your goal is to keep workplace violence at bay by restricting entry, there are a number of different types of physical security entrances to choose from – tripod and full height turnstiles, optical turnstiles, security revolving doors and mantrap portals. How do you select the right one for your application? Consider each entry point to your building and answer the following questions:
Is the entry point indoors or outdoors?
Are you looking to deter, detect or prevent tailgating?
Will you have guard staff present?
Who will be using the entrance? Only employees, or visitors also?
Are you interested in metrics that can predict your risk of infiltration?
By answering these questions, you can consult with an entry expert to determine the right security entrance for each point of entry at your building, whether that be the fence line perimeter, lobby, side entrance, or areas within your building where sensitive data or executives are located.
Trending: Building Security is Moving Past the Ground Floor
Most entrances to a building that can be accessed by outsiders are at the ground level of the facility. However, we are seeing a new emerging trend. Physical security entrance solutions are moving inside buildings beyond just the main entrance; they protect areas within buildings and upstairs in elevator lobbies they protect whole floors (especially in multi-tenant buildings). This has a number of benefits, specifically when addressing workplace violence: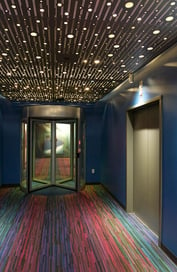 If an unauthorized user were to circumvent the first layer, additional entrances are now in place to protect all employees from a complete breach.
Employees within a building are limited in their ability to roam to certain areas of a building, like spaces with highly sensitive information or executive personnel. This stops some employee-on-employee workplace violence incidents.
For a leased building that houses multiple companies, businesses can implement physical security measures on their designated floors when the building owner or manager is reluctant to deploy ground floor security.
When it comes to physical security, a layered approach is best. As more and more organizations begin to adapt the layered approach, we'll continue to see security entrances installed inside of buildings in multiple locations, in an effort to mitigate workplace violence.
Entrance Enhancements for Workplace Violence Prevention
Whether you would like to deploy security entrance solutions at the ground floors or upper levels of your building, or both, there are a few enhancements you should consider for maximizing the security level of your chosen entrance.
For lobby security, the optical turnstile is the best solution for handling both employees and visitors efficiently. They also alert nearby guard staff to any instance of tailgating. To enhance this solution for workplace violence mitigation, consider tall barriers and jump over detection sensors to stop an intruder from crawling over the unit. You can use "filler railing" to plug any gap between the turnstile and the building surround/wall where an unauthorized user could squeeze through. And, anti-passback support stops an authorized user from passing his or her badge back to allow a second person through using the same credential.
When it comes to higher security doors and portals, often used as employee-only entrances or for the protection of sensitive data, there are also enhancements that can be incorporated, like anti-piggybacking technology, biometric devices, and bullet-resistant materials.