With all the benefits of revolving doors over traditional entrances, how does one go about selecting the right revolving door with the appropriate features and options for their application? We will explore some key elements of revolving door design.
Application and Capacity
The selection of the right revolving door for a building rests upon an understanding of the capacity and character of expected traffic. Simply put, how many and what type of people will be going through the door?
Traffic in a small office building will be very different from that expected at an airport terminal or hospital. And a person's familiarity with the door has a large impact on whether or not a door will meet its maximum capacity.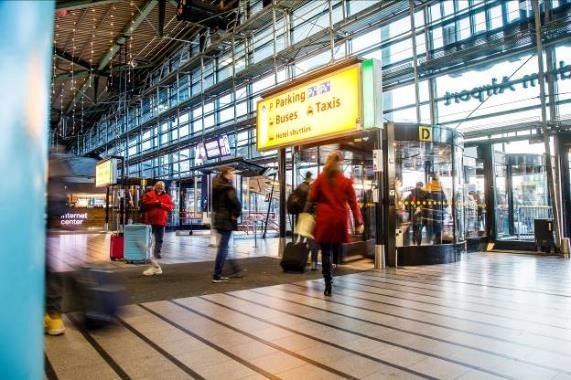 When considering what type of door is appropriate for the application and traffic, the following questions should be considered:
Will rush hours be a concern or will traffic be dispersed throughout the day?

Will the doors have to accommodate individuals with luggage or shopping carts? Will hospital gurneys be used?

Will the doors need to accommodate families, children, the elderly or disabled?

Are the users residents or employees who will come and go through the door on a regular basis?
As a general rule of thumb, manual revolving doors are ideal for small offices, restaurants and high-end retail stores. Automatic revolving doors are better suited at hotels, hospitals, airports and large retail stores.

Facade
Revolving doors enhance a building's façade and are available in a number of finish options so that they either blend in or stand out with their surroundings.
Today, all-glass facades are the most popular building design. An all glass revolving door with minimal stainless steel trim and patch fittings complements the look of a glass façade.
Revolving doors are available in a number of heights and widths with different canopy heights and heights under canopy. And these styles can be finished with metal or painted elements to complement any façade style.

Connections to the Building

Revolving doors can be connected to virtually any façade in a variety of ways. Connections enable a business to optimize interior space, create a dramatic statement, or even provide additional shelter for people and the door from the outside elements.
When choosing the appropriate revolving door connection, it's important to consider the effects of having the door mounted on the interior versus the exterior of the building.
A protective overhang is required for any door that is exterior mounted, because if left unprotected, a revolving door is susceptible to the weathering effects of rain and snow, resulting in increased maintenance costs and a shorter lifespan.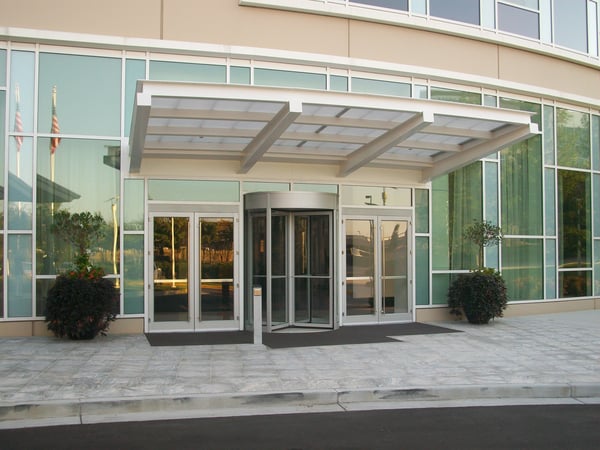 The most common types of storefront connections are:
Mid-post: half of the door is inside the building, and the other half protrudes beyond the building envelope
Throat opening: ideal for saving space, the revolving door resides completely inside or outside the building
Standard keyhole: similar to the throat opening connection, this type uses extensions to bring the door away from, or into, the building
Angled keyhole: uses 45 degree angled extensions to bring the door away from the building and can be mounted at the interior or exterior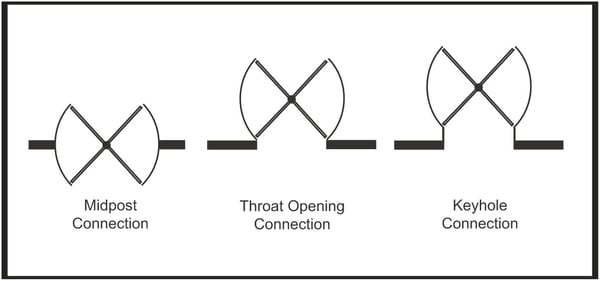 Branding and Dimensional Elements
Organizations around the globe can customize a revolving doors look to match their unique brand and reinforce their corporate culture. Revolving doors are available in multiple finish colors with various glass and trim options. We've even seen unique canopy designs and custom push bars.
Large automatic revolving doors are also available with showcases for displaying merchandise or showing off brand elements.
A revolving door can also include a variety of unique dimensional elements, to include diameters, canopy heights, bottom rails and vertical stiles.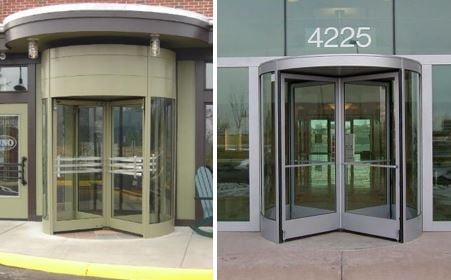 Awnings/Overhangs and Flooring

These two features are provided by others, but must be considered ahead of time to ensure the success of your revolving door project.
Building awnings or overhangs are critical to keeping snow and rain from getting inside, and they provide shelter from the weather. A revolving door with any portion outside of the building must have an overhang. To alleviate the need, many facilities choose to implement interior-mounted doors.
Flooring is also an essential component of a revolving door design. The flooring can either blend in with the existing surround, or it can stand out, as a circular footprint using a complementary floor finish, to indicate to the user where to step inside. Flooring can prevent stumbling or falling on rainy days, or it could collect dirt and debris from shoes. The possibilities are endless.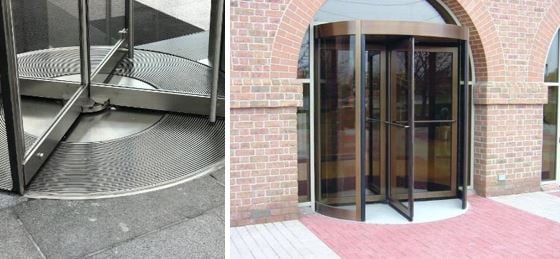 Security Features

Because of the current conditions we live in today, many building owners are seeking ways to increase the security of their facilities. Revolving doors with electricity can be equipped for physical security.
Revolving doors can be integrated with an access control system to allow for after-hours entry to only authorized users. Doors can also be locked manually, at the push of a remotely located button or automatically by the access control system at a certain time of the day. Vandal and bullet-resistant glass is also available.