Physical security is a vitally important business practice, to prevent unauthorized persons from entering your business and causing harm, to protect your intellectual property from corporate espionage, and to mitigate workplace violence, among other concerns. Today, organizations must consider physical security as a primary pillar of cybersecurity. There are three differing perspectives on this reality, each of them paramount to maintaining overall security.
(1) Physical Breaches Can Facilitate Hacking

For many hackers, the easiest way to obtain your data is to access it in the physical world. While strong firewalls and other cybersecurity best practices may thwart hackers outside your business from entering the network, very often hackers will simply find a way into your building and plug into any IP connection – or grab a laptop or server and walk out with it. They may use social engineering to bypass security guards, slip in behind an employee who politely holds the door open for them, tailgate through an access-controlled entrance, or use stolen credentials to get into your facility. Deploying the strongest-possible physical security measures is the best way to mitigate against this danger.
(2) Hacking Can Create Physical Threats

If your IP-connected physical security solutions are not properly hardened to cybersecurity threats, they can be compromised via the network. A hacker outside your building can access your network—through unsecured WiFi networks, a vulnerable Internet of Things (IoT) device, or another weakness—and can disable physical security devices such as surveillance cameras, access control systems or alarms. This can put your organization at risk in a number of ways. Terrorists could enter buildings, putting your personnel in direct danger. In a healthcare facility, criminals or employees, could steal prescription medications from protected storage rooms. Unauthorized individuals could enter restricted areas of critical infrastructure facilities and put themselves or the general population at risk.
(3) Physical Security Devices Can be Used as Attack Surfaces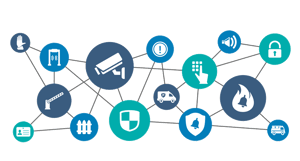 Any device on the IoT – from a smart fishtank to an elevator system – could be used by hackers as an entry point to the network. The same is true for physical security products from surveillance cameras to WiFi locks. The moment a device is connected to the network, it becomes a potential attack surface for a hacker to use to reach the network, from which they can implant malware, steal data or cause many other sorts of mayhem that disrupts business operations. Every IoT-connected device used in your organization must be properly hardened to prevent this from happening.