Now that you're convinced that a security turnstile is necessary for preventing unauthorized entry into your facility, how do you select the right model for each location of your facility? While some entrance manufacturers will try to recommend a solution simply because it is all that they provide, we at Boon Edam have the unique ability to truly consult you on the best solution for your application. Why? Because we make them all. Read on to learn more about each model.
Tripod/Waist High Turnstiles
Tripod turnstiles are 3-arm, rotating units that work in tandem with security personnel to control large crowds of people, entering or exiting a facility. These turnstile models are selected for their ability to withstand abusive outdoor conditions and large amounts of traffic.
Security Level 1: Crowd Control
In comparison to other turnstile models, tripod turnstiles offer the lowest level of security. These crowd control solutions manage the flow of people, but do not have the ability to detect attempts to crawl under or jump over. They have low barriers that provide a deterrent, but won't stop the determined intruder. Guard supervision is always necessary.
Applications:
Theme parks
Stadiums
Museums
Fitness centers
Manufacturing facilities
Educational facilities
Corporate lobbies
Pros:
Aids staff in managing the flow of people
Low capital cost
Sturdy, durable construction
Can be installed indoors or outdoors
Minimal installation time and low maintenance costs
Can be used for one way or bidirectional traffic
Cons:
Low security level, can easily be defeated
High annual operating costs due to a constant need for guard supervision
Incapable of providing metrics data
Full Height Turnstiles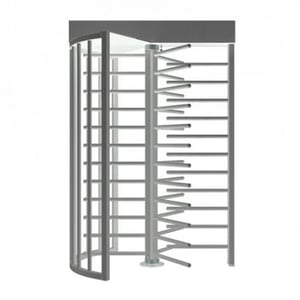 Full height turnstiles consist of 3 rotating sets of arms that rotate 120 degrees per valid authorization, allowing just one person through. Full height turnstiles are designed to withstand abusive outdoor conditions, and are typically found at the fence line of building perimeters. Space-saving tandem models are also available for smaller spaces that need to accommodate higher levels of traffic.
Security Level 2: Deterrent
Providing a higher level of security than tripod turnstiles, full-height models are more of a deterrent against intrusion since they cannot be defeated by attempts to crawl under or jump over. However, they can be defeated, and there are no sensors to alert nearby guard staff to respond to such attempts.

Applications:
Transit terminals
Corporate building perimeters
Leisure/amusement parks
Parking garages
Manufacturing facilities
Critical infrastructure
Pros:
Visual deterrent against intrusion attempts
Lower capital cost
Sturdy, durable construction
Can be installed indoors or outdoors
Lexan model has high aesthetics making it ideal for indoor use
Minimal installation time and low maintenance costs
Can be used for one way or bidirectional traffic
Cons:
Can be defeated if two people enter via the same compartment
Incapable of providing metrics data
Low aesthetics for indoor use
Optical Turnstiles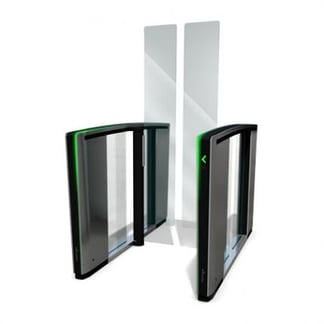 Optical turnstiles are made up of two opposing cabinets with swinging or sliding barriers that create a lane for passage. Optical turnstiles use sophisticated sensors to detect presence inside the lane, and can even tell the difference between two people entering and one person with a rolling bag. While most optical models have some sort of barrier, there are barrier-free versions available for those who desire a more passive security approach.
Security Level 3: Detection
Optical turnstiles step the security level up through their use of sophisticated presence sensors. Any attempt to bypass the turnstile will be detected and the unit will sound an alarm to alert nearby staff for quick response. Optical turnstiles can be defeated, though, so guard supervision is necessary at all times. There are some features that can be included to increase the security level of an optical turnstile.

Applications:
Corporate lobbies
Government buildings
Multi-tenant buildings
Educational facilities
Libraries/museums
Transit terminals/airports
Pros:
Aesthetically-pleasing, can be customized to complement any building interior
Moderate-strong visual deterrent, depending on barrier height
Sophisticated sensor system detects intrusion or loitering attempts and sounds an alarm
Supports anti-passback
Accommodates bidirectional traffic, one user at a time
Quality construction for long life
Cons:
Can be defeated and requires guard supervision to respond to alarms
High capital cost
High annual ongoing costs, due to constant guard supervision
Indoor use only
Bonus: Security Revolving Doors & Portals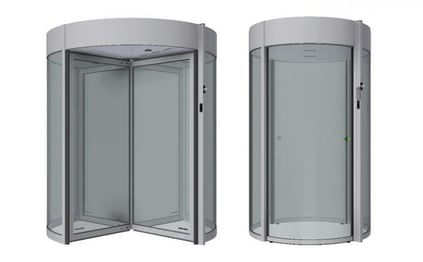 Why are security doors and portals included in a list of turnstiles? Well, often these solutions are mistakenly called "turnstiles" by security professionals. It is critical to also understand that there is a solution that offers a higher security level than even the optical turnstile.
Security revolving doors and mantrap portals combine full-height barriers with sophisticated sensor systems to provide the ultimate in tailgating and piggybacking mitigation. These models are so good at what they do, that they do not require guard supervision. They each provide valuable metrics data that can actually allow a security manager to measure their building's penetration risk. Security portals also provide true two-factor authentication, ensuring that not only one person can enter per authorization, but the right person.
Security Level 4: Detection AND Prevention
Providing the highest level of security available in an entrance, security revolving doors and portals completely prevent unauthorized entry without interference from guard staff. These solutions employ an overhead sensor system called StereoVision 2® that is capable of discerning whether one or two people are inside the entrance at the same time. And if more than one user attempts to pass through the door or portal on a single authorization, the system will not only detect the attempt, but completely rebuff it.

Applications:
Class A office buildings, employee-only entrances
Government buildings
Multi-tenant buildings
Data centers
Distribution centers
Pros:
Unauthorized entry prevention
Supports anti-passback
Low annual ongoing costs due to no guard supervision required
ROI achieved in less than a year
Provide valuable metrics to allow managers to predict probability of infiltration
Security doors support high throughput, allowing traffic to flow in two directions, at the same time
Security portals provide true two-factor authentication
Accelerated technical troubleshooting through the use of an IP-enabled software platform
Can be outfitted with bullet-resistant materials for protection against active shooter incidents
Cons:
High capital cost
Security portals have low throughput due to their support of two-factor authentication
Indoor use only