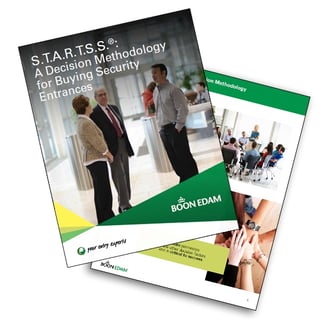 Download Brochure:
S.T.A.R.T.S.S. Decision Methodology

We've installed thousands of entry solutions, talked to end users all over the world and have developed a comprehensive process for choosing the right security entrance - S.T.A.RT.S.S.
We've come to observe that certain organizations will consider some of the decision criteria quite well but leave out one or two factors. When forgetting or ignoring any one of the criteria, you can end up with a security entrance that doesn't address the needs of your organization.
In this brochure you will discover:
8 factors to consider before your physical security entrance selection in order to make the most well-rounded decision
Post-installation considerations that should be addressed prior to purchase
Qualities that you should look for in not only the product selection, but in the manufacturer/provider selection process