Webinar:
Best Practices for Integrating Access Control and Biometrics with Security Entrances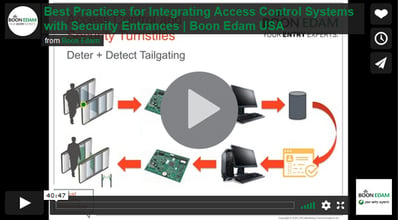 As a security professional, you've been working with access control systems (ACS) for some time. And you likely know how the ACS works with swinging and sliding doors. But…
Is this combo really effective?
Do you know at any time who is in your building?
Can you get more metrics and KPI's by integrating an ACS with security entrances? YES!
This 40-minute webinar answers those questions in detail and covers more about pitfalls to avoid during integration.
We also include a link to download some must-have guides, including an Entry Selection Cheat Sheet and a Security Entrance Comparison Guide.
Fill out the form to the right to watch now!