Whitepaper:

How Entrance Security is Vital to Your Workplace Violence Policy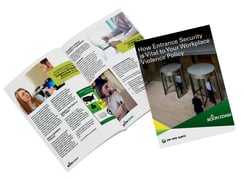 Businesses are finding that, despite their best efforts, workplace violence mitigation is no easy feat. In fact, a group of security professionals interviewed by Security 500 named "workplace violence" and "active shooter" incidents as the number one threats facing an enterprise today. Why? The impact of an incident can lead to a loss of productivity, morale, reduced profits or service levels, and negative PR.
Did you know? 79% of workplace violence homicide perpetrators are NOT coworkers of the victims. That means 79% of intruders should not have been able to access the interior of the building in the first place. Entry security is so vital to developing an effective workplace violence policy.
In this whitepaper you will learn more about:
The definition of workplace violence
Incident statistics
Three ingredients that height the chance for a serious incident at the workplace
How to create a workplace violence policy
How to reduce the risk of an incident through securing the entry
Download your FREE whitepaper today!