Whitepaper:

Making Physical Security Part of Cybersecurity Best Practices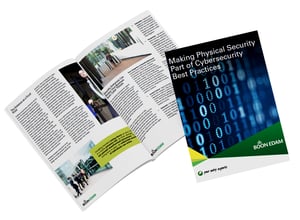 Cybersecurity is more important now than ever before. An international digital security company relates that over 2.5 billion data records were compromised in 2017 alone.
Have you considered, though, how critical physical security is to protecting your intellectual property? Not only can a physical breach facilitate hacking, but hacking can create physical threats. Read on to discover how security entrances at entry and exit points to your facility can protect your business against cyber threats.
In this whitepaper you will learn more about:
Threats data breaches cause
Physical security as a cybersecurity concern
The entrance as a focal point
How security entrances protect your business from cyber threats
Download your FREE whitepaper today!